WELCOME TO
FINETECH
DOOR AUTOMATION

FineTech Door Automation is a privately-owned business that has been incorporated since 2009. In just 10 years our company has grown to become a quality provider in Door Automation services, incorporating designs and manufacturing processes to industry standards. Our sales team and technicians have more than 10 years of industry exposure. We assure quality and professional servicing, ranging from the installation and sales of a variety of automated door equipment in GTA (Greater Toronto Area). Call us: 905-792-2829 416-986-2829
All of our systems are installed by certified technicians in compliance with AODA regulations.
We strictly follow Ontario Building Code Regulations
AAADm Certified & ADA Compliant
Automatic doors are devised to meet the modern requirements of interior design & enhance the look of work environment. …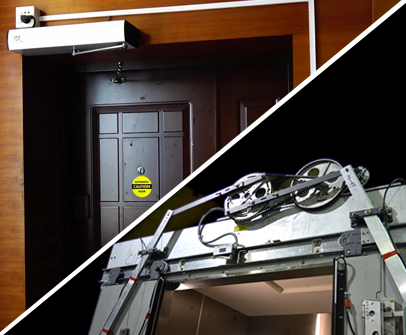 We thoroughly go through every aspect of planning, Time management, Cost management. We help you understand the project from start to finish.…
Our low-power automatic systems facilitate wheel-chair access to all areas where wheelchair traffic is present, allowing for autonomous and complete freedom of movement. Applications include front door entry points and washrooms. …
How Does It Work
Comprehensive solution for all your door related needs
why choose
FINETECH
We assure quality and professional servicing
We are dedicated to providing our customers with the highest quality products and services available in the industry today. We shall ensure that the fundamental background and systematic processes of this quality initiative are applied throughout our organization.

Our journey is clear, We take pride in making on-time, on-budget deliveries to our clients.

What our

clients say
" Quality Services
& Excellent Work! "
Their experience in the commercial and industrial fields has been invaluable in terms of knowledge and delivery. They have a fast turnaround and are able to respond within 24 hours to almost any situation. I would happily recommend them as friendly, efficient suppliers and installers of automatic door systems.!
It is an absolute pleasure working with Finetech door automation. They have always been prompt, reliable and user-friendly. They have grown year after year and maintained their earnest dedication to excellence. I can confidently recommend them as solid suppliers and experts in their field.
Finetech has dealt with our project in a competent, professional and safe manner. They deliver the result on time and on budget; an outstanding job all round and highly appreciated by us!
door
automations
For all automation
solutions
Be it in hotels, restaurants, supermarkets or public offices, the automatic doors systems serve as convenient access for all.
Our automatic door systems are unique solutions designed to meet the modern requirements of interior design. They greatly enhance the look of commercial areas and work environments. …
We design durable and welcoming automatic door installation systems for residential purposes. They offer a unique appeal with the most advanced technology. Our team is committed to providing quality door automation which adheres to the safety standards and is best suited according to your requirements. …
trust and recommend
Contact Us
If you have any questions, just call us
and our experts will help you.